Welcome
The Border Riders Motorcycle Club (BRMC) is an organized group of guys who like to ride and camp. Our membership spans the Pacific Northwest, with the greatest participation in Portland, Seattle, and Vancouver B.C. We have one of the largest memberships of gay clubs in North America, and welcome like-minded guests to join us on our monthly club events and local activities during the riding months. Check the main page of the website at http://borderriders.com for additional information.
December Holiday Party Recap
Once again Chris and Richard did an awesome job hosting the Club Holiday Party. The meal was a group effort with Chris preparing the appetizers, the chicken cordon bleu prepared by Alan. Buck made the squash soup and Jeff made the desserts. As usual the food was great.
There were a total of 26 members and guests present. The white elephant gift exchange followed the dinner and everyone had a good time. There were some presents to be envious of and some not so much. Several gifts were stolen with a couple of them reaching the limit on the number of times they could be stolen. Guest Ramon drew number one and hand the first pick of packages. Since he was first he had the opportunity once all the gifts were open to then steal one of them in exchange for his. The gift he opened was a lovely bear holding cowboy hat that he decided he didn't want and thus stole two blown glass ornaments leaving the person that brought the cowboy hat with it to take home. The cowboy hat will be making another appearance next year!
Chris and Richard also hosted several members and guests overnight at their house. With a group of "locals" and guests then going to breakfast the next morning at the Calico Cupboard in Mount Vernon.



From the Handlebars of the President
Here we are the first of January with the AGM coming up soon. Ballots will be emailed to those eligible to vote for the proposed slate of officers and new member. Remember to check out the bio of proposed member on the members section of the website.
As we wind down our 49th year and enter into our 50th year I would like to thank a few members for their work this past year. Every member contributes in his own way but there are a few that I would like to recognize. These are listed in no particular order.
Joe C - webmaster and for developing our new website this year

John D - host for the March meeting

Dan S - hosting April meeting

Dave J - Newsletter editor

Doug H - hosting the October meeting

Guest Kas C - hosting the November meeting

Iain M - For faithfully making sure we have electricity at Victoria Day Campout
And last but certainly not least, I would like to thank my fellow board members Dan, John, Stan, and Dennis for all they have done for the club this past year. Without their help the club and it's events would not have been as successful as they were.
I am looking forward to our 50th Anniversary Year and the special events that are being planned. Additional activities are being planned for Victoria Day Campout, a special week-long rally is planned for September and the Anniversary Banquet to end the year in 2020 will be exciting.
Happy New Year……and keep the shiny side up!
Jeff C -
Road Captain Rumblings
On Sunday/Monday did a little road trip to Entiat with an overnight in Wenatchee to retrieve the flag from the locker so we will have it for the meetings for the balance of the year rather than having to wait until Victoria Day. Fortunately, the it wasn't buried too deep in the storage unit. Went up the road towards Pine Flats and road and the road was good, but closed at the point where sign says "End of County Maintained Road", so 2 miles from Pine Flats. Beyond the closure there was a little bit of snow on the road and tried doing a little hike but the snow was too icy for decent traction. Good thing is there was no evidence of fires at that point. Would have stopped at the Ranger Station to check in, but closed due to the government shutdown.
The December meet and greet at The Cuff was attended by Chris, Dale and myself with no Karaoke to contend with like November. Chris removed the Borderriders picture for updating. Pencil it onto your calendars for the 3rd Wednesday of the month - a good opportunity to catch up with a fellow member for dinner and go over to the Cuff afterwards to get together with others. It would be good to have at least 2-3 members there every month.
Booking group sites is challenging as any Road Captain can attest with all the various open dates/deadlines and also having a city close by for food and support. I need to wait until January 2nd for my first choice for July until January 2nd, so July and August are still up in the air. May is obviously Pine Flats, June is Bear Springs Group campground near Maupin, Oregon – close enough to Portland to do the Pride Parade in Portland if that is the desire. July will be Washington, August will be British Columbia. Stay tuned for the actual sites.
Treasurer's Ramblings
I'll start with a mighty compliment to Chris and Richard for hosting our annual holiday party and white elephant gift exchange. This is always a fun event and one of my favorites. As always, they put on a wonderful spread to compliment the evenings activities.
I'll also give a shout out to my one and only Alan who helped Chris in the kitchen. What an amazing meal that was and I thank you both for all your hard work.
Club Finances & Such
The club closed the 2018 year financially strong. We ended the year by not having any uncollected receivables and the only debt we have is related to the patch deposits. I congratulate the members for making sound financial decisions which made this possible.
As I write my portion of this newsletter, I still do not have any response from the IRS regarding our NFP Status. To make matters more frustrating, the US Government is currently closed due to this financial impasse and political bullshit going on in Washington DC. There is no dependable timeline as to when the government will reopen so all we can do is wait.
Portland's November M&G and Day Ride
Portland had 1 Meet & Greet "M&G" in December and it was attended by 4 people. We decided for the day ride we would take part in the ABATE Toy Run for the Portland Shriner's Children Hospital happening that Saturday on December 8th. The word was put on Face-Book and 5 people showed up.
Jeff, Joe, Alan and I met for breakfast and then rode over to the Fred Meyer Corp Center parking lot to participate in the toy run. This is where we met up with Blue. We walked around for a couple hours looking at all the bikes and people in attendance.
I'm guessing about 400 bikes showed up for this event. A couple dozen had Christmas decorations on them and were competing for a prize. It was interesting to see what people did with their bikes. One guy had so many lights he couldn't shut off the engine due to the power demands. He didn't win anything, so quantity wasn't what they were looking for. They also had a raffle happening. I was tempted by a new motorcycle being raffled off, but luck escaped me once again. At least the money went to a good cause.
This ending up being the largest group ride I have ever been with. We were escorted by a slew of police and the streets were lined with bystanders who waved and cheered us on. To say it was fun would be an understatement. I shall do it again next year, weather permitting.
The weather was damp and cold but at least it didn't rain. Towards the end of the ride Blue headed home and the rest of us broke off and went to lunch at the zoo. What ride isn't fun when it starts with one meal and ends with another?
I thank Jeff B for organizing this event.
Don't forget, Portland's next M&G will be on "Wednesday", January 2nd at the Eagle on Lombard at 7:00. This is the first M&G held on our new schedule. Starting in January the Portland M&G will be on the 1st Wednesday of the month aligning itself with the M&G in BC on the 2nd Wednesday of the month & Seattle's happening on the 3rd Wednesday of the month.
Also, there should be a day ride or some social event in each area on the 1st Saturday following the 1st Wednesday of each month. January's day ride is scheduled for Saturday 1/5/19. Check with your local organizers or watch Face-Book to see what is happening in your area.
I am suggesting we try use Face-Book as the means of notifying everyone about the details for each area's day ride. This will allow people visiting other areas to know what is happening everywhere in case they would like to attend that areas event.
If you don't use FB, buddy up with someone who does and have them keep you informed. If you use FB but are not yet familiar with our FB page and need help finding us, please contact me via e-mail, Treasurer@BorderRiders.com and let's get you hooked up.
Treasurer's Ramblings
Last month I asked for some help in finding a cool name for my rambling section of the newsletter. I didn't receive any input, ☹ so I can only guess that either no one has a better idea, no one cares, or no one reads it. I will just call it "Treasurer Ramblings" for now. It seems rather fitting anyway.
By the time you get this newsletter, 2019 will have arrived and what an amazing year this is looking to be for the club. Chris L has been bouncing his ideas for the VD Campout off me and it should turn out to be a wonderful event. He has a lot of wonderful ideas, but I will let him tell you all about what he is doing when he makes his announcement at the AGM. Just know I am excited and I can't wait to get our 50th Anniversary Celebration to get started
Team Oregon 2019 Motorcycle Class Schedule
In addition to the 50th Anniversary events, I would like to bring to your attention to 3 motorcycle skills enhancement classes I have set up with Team Oregon. The first is their RSP class happening on Saturday, June 1st. The second is their ART class happening on Monday, June 17th. The third is their AMT class happening on Saturday, September 14th.
Registration will open for the RSP & ART classes February 1st and only BRMC affiliates will be able to register for these classes until May 1st. On May 1st these classes will be opened to the public. Team Oregon will sell any spots we did not purchase to the general population. We need 12 people to register for the RSP Class and 18 to register for the ART Class. If we can fill these classes they will be closed for us only. I will post information about how to register in the February newsletter.
I don't always fill these classes and I believe it's important to make it a closed class for BRMC and our affiliates. For that reason I don't request that attendees be gay or male in order to attend. All I ask is that you are gay or gay friendly. These events are about learning to ride and becoming a better/safer rider in a non-judgmental environment of people who will support you and want you to succeed without being hackled by non-gay friendly people. So, if you have a friend or family member that would like to take one of these classes and would be a fun addition to the event, let's get them informed and have them register and take this class with us.
There will likely be a social event before and after these classes. For that reason, I am asking everyone who registers to contact me at the same time. This will allow me to make sure everyone gets invited to the whole event (before and after parties) and not just the class.
The RSP Class is their Riders Skills Practice Class. It will begin around noon and will last 4 hours. This course is in Oregon City, OR. It's mostly about emergency maneuvers and working out the cobwebs we acquire during the winter. I have taken this class 3 or 4 times and I always come away having learned something. I'll be taking this class again this year as well. The fee for this class is $99 however, an anonymous donor has given us one admission ticket for this class. We will auction off this ticket at the banquet in February to raise money for our 50th Anniversary Celebration. For more information about the class, visit their web site at https://team-oregon.org/training/riderskillspractice/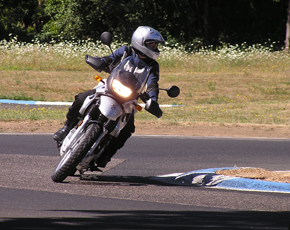 The ART Class is their Advanced Riders Training Class. It will begin around noon and last for about 4 hours. The course is in Canby, OR. This class is designed to further our cornering skills. The course is a go cart race track and while not intended for high speeds, sorry Dale, I believe it will give us the skills to handle corners "more efficiently". The fee for this class is $179 however, an anonymous donor has given us one admission ticket for this class as well. We will auction off this ticket at the banquet in February to raise money for the 50th Anniversary Celebration. For more information about the class, visit their web site at https://team-oregon.org/training/advancedridertraining/
OK, as if that wasn't enough training for one year, Team Oregon and I have worked out a special class for BRMC. Team Oregon will set up a private class on Saturday, September 14th just for us. I am still working out the details and time for this class, BUT this is going to be an abbreviated version of their Police Training Course. Can you believe this? It is called their AMT or Advanced Motors Training Class. I'm so freaking excited.
I think the version they are putting together for us is the one we all watch on You Tube and wish we could get a chance on that field of orange cones doing tight maneuvers, a clock ticking, music playing on a loud speaker and people cheering us onto a finish line. Heck, there might even be some donuts to be found. Team Oregon trains the police and they are offering a version of their police training class to us. They want to help us kick off our 50th Anniversary Rally happening in September and are creating this special class just for us. Can you believe this? Yahoo!
I doubt we will have a loud speaker and we will need to be our own cheering crowd, but the course is real, and I know many of you have dreamt about this. I know because we've talked about it. As Collin would say, bounce, bounce, bounce.
As if it couldn't get any better, an anonymous donor has donated the entire class for anyone affiliated with BRMC. Seriously, it's free to BRMC members and out affiliates who want to spend a couple hours playing on this course while getting feedback from their instructors. The course is in Albany, OR and it's on the way to our 1st 50th Anniversary Rally check-in happening that Saturday night in Roseburg, OR. I believe it would be a horrible loss if we didn't take advantage of this opportunity. I hope you gents are as excited about this as I am. What a hoot! I can't wait!
I know it will be a stretch for some of you more northern riders to get there by noon or 1 so I am hoping the Seattle and Portland people will open their homes Friday night. This will make it possible for the northerners who want to play on this course but live too far north to get to the course by noon or 1.
Additional information for this class can be found at https://team-oregon.org/training/advancedmotorstraining/
BTW, even though I talk about these events as a BRMC event, these events I put together with Team Oregon are not a BRMC sanctioned event. This is just me organizing these classes for my BRMC brothers and our affiliates because I keep getting request for it. Also, I love them, I see everyone having fun while improving their riding skills and I learn something every time I go.
Closing Statement
I hope you all had the best holiday season possible whatever that might have been for you. I honestly hope to see you at one of our upcoming events and if you should have any questions or comments about anything I am dealing with, please feel encouraged to contact me & let us chat.
Sincerely,
Stan C, BRMC Treasurer
Treasurer@BorderRiders.com
2019 Board of Directors
The following members members have been nominated and accepted the nomination to serve as board members for the coming year:
President: Jeff C
Vice President: Dan S
Road Captain: Dennis H
Secretary: John D
Treasurer: Stan C
Elections will be conducted electronically by email. Members who are eligible to vote please be on the lookout for your ballot and vote prior to the Annual General Meeting.
AGM - Annual General Meeting
Each year the club holds the AGM at the Cuff Complex in Seattle in a closed, member only business meeting. At that time voting is completed for new officers, new prospective members, and changes to the bylaws or standing orders and other various administrative items. As such the meeting is closed to guests but guests are welcome for social and dinner time.
Social time will begin at 4:00 pm on the lower level of the Cuff on Saturday, January 19th with everyone encouraged to attend. The member only meeting will begin at 5:00 and guests will be asked to move to the upper level until the meeting is adjourned. Dinner and social time with members and guests will follow the meeting at approximately 6:00 pm. The group photo will be taken before dinner.
The Cuff is located at 1533 13th Ave, Seattle, WA.
Anniversary Banquet
It is not too early to start thinking about the Anniversary Banquet. Jeff B has taken on the task of helping plan and organize the banquet for the club. The banquet will be on February 16th to be held at the East Moreland Golf Course south of Portland.
50th Anniversary Celebration
The 50th anniversary celebration committee is busy planning one heck of a year for us that will not soon be forgotten. In September, BRMC will be hosting a week long ride with invited guest clubs joining us! Ride as far and long as you wish. The weather should still be great in September for us all to enjoy safe riding conditions. Stay tuned each month for more details.
Annual Dues
As a reminder, the annual club membership dues are payable in advance of the Annual General Meeting in January. A link to pay dues will be on the website. If you wish to pay in person you may do so at the AGM on January 19th.
Calendar of 2019 Events
January 19 Annual General Meeting - Seattle, WA

February 16 Anniversary Banquet - Portland, OR

March 16 Membership Meeting - TBD

April 20 Membership Meeting - TBD

May 17-20 Victoria Day Weekend Camp - Pine Flats Campground, Ardenvoir, WA

June 14-16 Bear Springs Group Campground, Maupin, OR

July19-21 Washington, site still to be determined

August 16-18, British Columbia, site to be determined

September 14-21 50th Anniversary Ride - OR, WA, BC

September 21 Membership Meeting

October 19 Membership Meeting - TBD

November 16 Membership Meeting - TBD

December 14 Holiday Party - TBD
Birthdays
We have 1 member with a birthday this month. Please take a moment to wish him a great day.
Meet & Greets
BRMC members will be available for new and returning guys to connect and learn more about the club and opportunities to participate. If you are interested, check out when and where in the cities listed below. Also, in addition to the club's monthly events, local rides may be organized, weather permitting. To lean more, email the Road Captain for specific details, or to ensure a member to meet you, at captain@borderriders.com.
Portland: Meet & Greet - 1st Wednesday of the month, 7pm at The Portland Eagle
Vancouver BC Meet & Greet - 2nd Wednesday of the month. Time & Location YTBD
Seattle: Meet & Greet - 3rd Wednesday of the month, 7pm at The Cuff
Contributions of Photos & Stories
If you have photos and stories to share, please send to news@borderriders.com